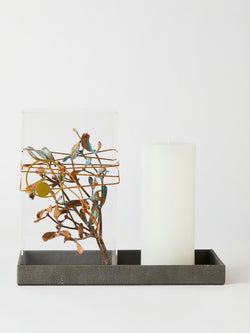 The Kiss Christmas decoration
Elegant and unique Christmas decorations for those who love simple luxury. It contains a genuine copper mistletoe displayed in a nice plexiglass box, based on a warm grey leather tray. Next to the decoration is a large handmade luxury block candle that can burn all Christmas. The flame gives a beautiful glow to the mistletoe and its shiny surface. The decoration lasts forever. It is so wonderful to bring out the same beautiful Christmas decorations every year. Just buy a new candle every year! A gift that might trigger the best kiss of Christmas! Handmade church candle measuring 25 cm.
Lulu Mosquito offers GLS and UPS delivery to GLS and UPS delivery points in EU free of charge for all orders over EUR 70. Delivery time: 1-4 days. Orders delivered to a home address are subject to an additional charge of EUR 6.
Returns and cancellations: For customers worldwide: Purchases may be cancelled within 14 days of receipt of your order. All costs associated with cancellation will be charged to you. For Danish customers: Please email pernille@lulumosquito.com, and we will send you a return label free of charge by regular mail.
Delivery outside the EU Lulu Mosquito charges EUR 45 for delivery to collection points, and for delivery to a private address Lulu Mosquito charges EUR 50