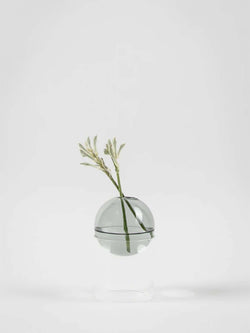 Standing Flower bubble
The bubble vase is beautiful in all its simplicity and with a little piece of nature it becomes even more beautiful. The elegant glass ball floats on a clear single glass cylinder. The vase is perfect for small delicate flowers, especially those you get from a little friend or child who has picked with short stems.

When light falls through the stained glass, it creates beautiful shadows and new silhouettes. Due to the size, can be placed on even the smallest surfaces.
Measures H10 cm Ø 8 cm. 
Lulu Mosquito offers GLS and UPS delivery to GLS and UPS delivery points in EU free of charge for all orders over EUR 70. Delivery time: 1-4 days. Orders delivered to a home address are subject to an additional charge of EUR 6.
Returns and cancellations: For customers worldwide: Purchases may be cancelled within 14 days of receipt of your order. All costs associated with cancellation will be charged to you. For Danish customers: Please email pernille@lulumosquito.com, and we will send you a return label free of charge by regular mail.
Delivery outside the EU Lulu Mosquito charges EUR 45 for delivery to collection points, and for delivery to a private address Lulu Mosquito charges EUR 50