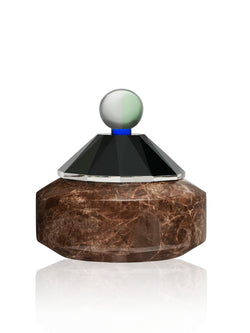 Reflections Copenhagen - Apple Bonbonniere
Decorative hand-carved marble bowl with accompanying lid in crystal. Beautiful, sculptural and functional exterior. Suitable for both storage and serving. Use it for your favorite bon bons or jewelry.
Clear, Green, Cobolt Crystal and Brown Marble 
Measures: 18 x 18 x 17.5 cm


Lulu Mosquito offers GLS and UPS delivery to GLS and UPS delivery points in EU free of charge for all orders over EUR 70. Delivery time: 1-4 days. Orders delivered to a home address are subject to an additional charge of EUR 6.
Returns and cancellations: For customers worldwide: Purchases may be cancelled within 14 days of receipt of your order. All costs associated with cancellation will be charged to you. For Danish customers: Please email pernille@lulumosquito.com, and we will send you a return label free of charge by regular mail.
Delivery outside the EU Lulu Mosquito charges EUR 45 for delivery to collection points, and for delivery to a private address Lulu Mosquito charges EUR 50