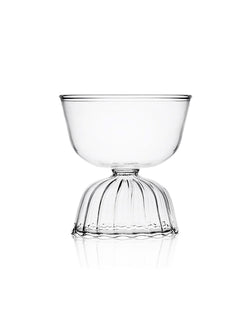 Tutu glass - Whitevine
The Tutu white glass is a design by Noa Ikeuchi and Tommaso Nani. The collection has a bond made of empathy and design, in which simplicity and rationality meet in a contemporary frame. The meeting and union of different meanings and symbols is at the center of their philosophy. Objects and relationships arise from these encounters.

Dishwasher safe at low temperatures 40 ° recommended.
Lulu Mosquito offers GLS and UPS delivery to GLS and UPS delivery points in EU free of charge for all orders over EUR 70. Delivery time: 1-4 days. Orders delivered to a home address are subject to an additional charge of EUR 6.
Returns and cancellations: For customers worldwide: Purchases may be cancelled within 14 days of receipt of your order. All costs associated with cancellation will be charged to you. For Danish customers: Please email pernille@lulumosquito.com, and we will send you a return label free of charge by regular mail.
Delivery outside the EU Lulu Mosquito charges EUR 45 for delivery to collection points, and for delivery to a private address Lulu Mosquito charges EUR 50