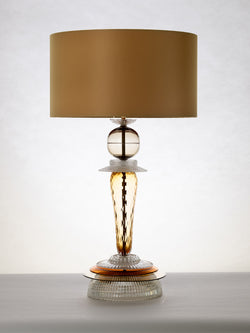 Unique Glass Table Lamp
Studio Kalff redesigns used glassware and handblown glass, creating new combinations that lend meaning and function to the redundant. All Studio Kalff's glass is handmade: each piece is a unique combination of individually selected elements. The most beautiful classic lamp - one of a kind.


Lulu Mosquito offers GLS and UPS delivery to GLS and UPS delivery points in EU free of charge for all orders over EUR 70. Delivery time: 1-4 days. Orders delivered to a home address are subject to an additional charge of EUR 6.
Returns and cancellations: For customers worldwide: Purchases may be cancelled within 14 days of receipt of your order. All costs associated with cancellation will be charged to you. For Danish customers: Please email pernille@lulumosquito.com, and we will send you a return label free of charge by regular mail.
Delivery outside the EU Lulu Mosquito charges EUR 45 for delivery to collection points, and for delivery to a private address Lulu Mosquito charges EUR 50