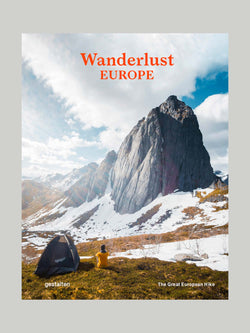 Wanderlust Europe
From the temperate climes of the Spanish islands, over the Nordic fjords, and to the summit of alpine peaks, Wanderlust Europe points the reader in the direction of the continent's most awe-inspiring routes. Offering expert knowledge on how best to experience nature's majesty, this stimulating manual for hikers of all skill levels traverses far-reaching locales in pursuit of breathtaking beauty and a sense of freedom. Combining first-hand tips with informative maps and an array of spectacular photography, this book is a welcome addition to the Wanderlust series and for anyone with an urge to connect with the great outdoors.
Alex Roddie has been a mountaineer and climber for over 15 years, and likes to experience nature's wild, and often wet character. Based in England, he works as an editor, writer, and photographer for outdoor-related publications and websites.
Lulu Mosquito offers GLS and UPS delivery to GLS and UPS delivery points in EU free of charge for all orders over EUR 70. Delivery time: 1-4 days. Orders delivered to a home address are subject to an additional charge of EUR 6.
Returns and cancellations: For customers worldwide: Purchases may be cancelled within 14 days of receipt of your order. All costs associated with cancellation will be charged to you. For Danish customers: Please email pernille@lulumosquito.com, and we will send you a return label free of charge by regular mail.
Delivery outside the EU Lulu Mosquito charges EUR 45 for delivery to collection points, and for delivery to a private address Lulu Mosquito charges EUR 50