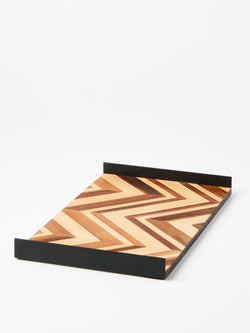 Charles tray fishbone
The tray collection is named Charles after the famous French furniture maker André-Charles Boulle. The tray has a perfect balance between graphics, materials and good craftsmanship. It is designed by the design duo GRiNT, who has mixed cold and warmth, both in the use of colours and materials. Absolutely beautiful!
Measures: 30,5 x 18,3 x 2,5 cm
Lulu Mosquito offers GLS and UPS delivery to GLS and UPS delivery points in EU free of charge for all orders over EUR 70. Delivery time: 1-4 days. Orders delivered to a home address are subject to an additional charge of EUR 6.
Returns and cancellations: For customers worldwide: Purchases may be cancelled within 14 days of receipt of your order. All costs associated with cancellation will be charged to you. For Danish customers: Please email pernille@lulumosquito.com, and we will send you a return label free of charge by regular mail.
Delivery outside the EU Lulu Mosquito charges EUR 45 for delivery to collection points, and for delivery to a private address Lulu Mosquito charges EUR 50